SECOND YEAR OF RESTORATION EFFORTS COME TO A CLOSE.
The beginning of the winter manatee season on November 15, 2022 marked the end of another successful season for the Homosassa River Restoration Project. Another step forward in our continuing efforts to rid the river of Lyngbya and years of accumulated detrital material as well as plant and restore healthy eelgrass meadows.  Additional spring vents were uncovered and grasses installed in 2021 continue to flourish and expand.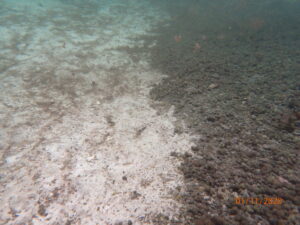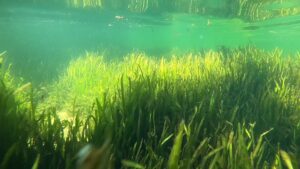 Strong local community support helped pave the way for three very successful fundraisers allowing HRRP to continue permitting into Phase 4 and expand educational and community programs.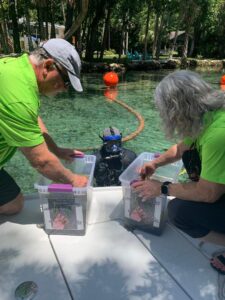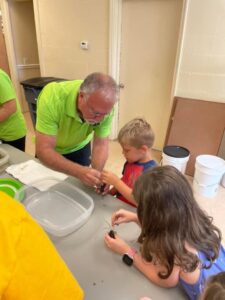 HRRP went to Tallahassee to lobby our Legislators for the funding need to continue our efforts.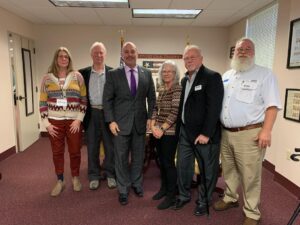 FACTS AND NUMBERS
Phase 1 is now complete.
Area restored: 23.69 acres.
Muck removed:  120 Million Pounds.
Eelgrass Plants Installed: 130,445
Grow SAV Herbivory Exclusion Cages: 1004 were removed from last years use and 1,060 installed this year.
Uncovered Spring Vent Count:  22
Phase 2 and 3 DEP Permitting: Combined 26 acres of river and canals

LOOKING AHEAD TO 2023
State Funding for 2023 did not meet expectations. Beginning April 1 Sea & Shoreline crews will be back in the water working on Phase 2. How far the project moves ahead will depend on whether any additional funding is available. HRRP members will once again be walking the halls of the Capital Building this spring meeting with your state representatives.
The Homosassa River Restoration Project is a multi year, multi million dollar restoration project being completed by a small all-volunteer 501(c)(3) in partnership with state agencies. Government/Private partnerships completing projects of this magnitude are extremely rare.
Without the support and trust of our former Senator and now Florida Commissioner of Agriculture Wilton Simpson and Representative Ralph Massullo these projects never would have seen the light of day.
HRRP would like to welcome our newly elected State Senator Blaise Ingoglia and look forward to working with him.
The State Agency overseeing our project is The Florida Department of Environmental Protection and is responsible for and in overall control of the funding, contracts, and the oversite required to make sure that your taxpayer dollars are spent wisely and as intended.
WHAT YOU CAN DO
Watch out for exclusion cages. Look before anchoring. Use sand anchors, spud and/or power poles DO NOT DRAG ANCHORS! Tilt up when in shallow waters.
Happen to find yourself in front of Sen. Blaise Ingoglia and/or Rep. Ralph Massullo? Thank them for their support and ask that they continue.
Donate to HRRP